Aprender inglés en Jaén. ¿Cómo elegir la mejor escuela de idiomas para mí?
¿Estás viviendo, trabajando o estudiando en Jaén, y quieres aprender inglés en Jaén? Si necesitas encontrar una academia que te ofrezca calidad a precios asequibles, pero también que te inspire seguridad y te permita aprender con flexibilidad, encontrarás muchas opciones en Jaén, y quizás no sepas por dónde comenzar tu búsqueda. Por eso te facilitamos el trabajo compartiendo contigo nuestras recomendaciones, que tienen en cuenta la trayectoria y experiencia del centro, la oferta de clases de inglés, la flexibilidad de horarios, el número de alumnos por grupo y por supuesto el precio también.
The pleasure is ours, but the choice is yours!
También te indicamos el
PRECIO
de cada escuela y te recomendamos que te fijes en la relación
CALIDAD / PRECIO
que ofrecen.
Top 5 mejores academias de inglés en Jaén, según la opinión de los usuarios.
Una nueva manera de aprender inglés irrumpe con gran fuerza en Jaén, ofreciendo gran variedad de clases por videoconferencia con profesores de todo el mundo, sin olvidar clases particulares y presenciales en bares, cafeterías o lugares públicos como centros cívicos. En Oxinity ofrecen clases de inglés para niños, adolescentes, adultos, inglés para empresas, inglés para profesionales, inglés para nivel inicial, pre-intermedio, intermedio y avanzado, en grupos súper reducidos de máximo 3 alumnos, lo que proporciona una práctica muy activa del idioma además de tecnología que acelera el aprendizaje. Tienen un sistema colaborativo de elaboración de material para poder seguir aprendiendo y realizando ejercicios a través de su app de aceleración. Si lo que buscas es hablar bien inglés y entender a personas de todo el mundo, mejorar tu nivel académico o si quieres entender a todo tipo de angloparlantes en reuniones de trabajo, negociaciones, presentaciones, venta, etc., entonces Oxinity es una excelente opción, con una óptima relación calidad/precio, desde 30€/mes y sin gastos de matrícula ni material.
Lo mejor:
Grupos de sólo 3 alumnos. Gran abanico de horarios flexibles.

Puedes reservar y cancelar con 1 minuto de antelación.

Puedes probar el sistema con una CLASE GRATIS y tienes un 10% de descuento por referidos.

PRECIO: desde 30€/mes
El estudiante no paga matrícula y el coste mensual es de 7€/clase.

Todos los cursos de inglés para empresas de Oxinity son 100% bonificables por la FUNDAE.
Centro Británico es una academia muy conocida en Jaén, lleva desde 1973 formando a alumnos y es frecuente contar ahora con segundas generaciones de estudiantes, cuyos padre o madres ya fueron alumnos en esta academia. En el Centro Británico, encontrarás una formación individualizada y especializada. Apuestan por la asistencia a clase y control de deberes e informes de evolución, junto a una metodología funcional y comunicativa basada en el aprendizaje y la práctica del idioma. Sus profesores buscan el equilibrio adecuado entre aprender y divertirse en inglés, con el apoyo de las nuevas tecnologías modernas, como la pizarra digital en sus aulas, y son todos nativos. Ofrecen cursos grupales de 10 o 12 alumnos diseñados según la edad y nivel de cada alumno, desde 60€/mes por 3 horas semanales, y preparan para los exámenes de Cambridge desde niveles B1, B2, C1 y también C2. .
Lo mejor:
Reconocimiento y trayectoria.

Filosofía del progreso constante y altos estándares y control

Centro preparador de exámenes de Cambridge y Trinity.
PRECIO: Grupos de 10-12 alumnos desde 60€.
The English Balcony es una academia 100% online que ofrece cursos de 2 clases online de 90min. a la semana por videoconferencia en directo, una dedicada a writing y reading y la otra a speaking y listening, en grupos de 6 a 8 alumnos máximo por 65€/mes las clases de adultos o 50€/mes la de niños. Los alumnos adultos a partir de un nivel B1 de The English Balcony pueden acceder a la plataforma theprivatebalcony.com cuando quieran para practicar el idioma de forma autónoma y sin supervisión y realizar cientos de ejercicios que mejorarán su escritura, comprensión y conversación en inglés. También ofrecen cursos intensivos de Aptis en grupos de 8 alumnos, de duración 40hs durante 5 semanas, en los que puedes mejorar tu nivel antes de presentarte a un examen de titulación oficial; y ponen a disposición del alumnos un servicio exclusivo de clases de conversación con profesores nativos, de forma presencial o a través de Skype desde 15€/hora/persona si el alumno consigue organizar un grupo de 3 o 4 interesados hasta 25€/hora/persona si es individual.
Lo mejor:
Dos clases de prueba antes de formalizar la matrícula

Plataforma propia de recursos y ejercicios para los alumnos adultos de cierto nivel

Preparación de exámenes Cambridge, Trinity, Aptis, EOI libre, oposiciones de la Guardia Civl, oposiciones al Cuerpo Jurídico Militar…
PRECIO: Grupos de 6-8 alumnos por 65€/mes para adultos y desde 50€/mes para niños
The English Language Center es un grupo de 4 academias liderado por el británico Jeremy Kelman. El centro de Jaén lleva activo desde 2008, formando a sus alumnos en el aprendizaje de la lengua inglesa, ya sea para la obtención de titulaciones oficiales o para obtener y perfeccionar un buen nivel de inglés. The English Language Center está presente en otras ciudades de Andalucía, como Málaga y Mengíbar; y también en Leganés. Ofrecen cursos diseñados en un entorno 100% británico para todo tipo de edades y niveles, para que el alumno siempre esté integrado en un grupo en el que pueda seguir avanzando, y desde los 3 años hasta adultos, con un enfoque más o menos interactivo, según el nivel del curso y la edad del alumno. Es un centro de preparación para los exámenes oficiales de University of Cambridge ESOL, Trinity College London y Aptis – British Council, además de centro oficial examinador de Trinity College London. Los padres y madres cuentan con una aplicación con la que poder llevar un seguimiento en tiempo real del trabajo semanal realizado por sus hijos.
Lo mejor:
Entorno 100% británico desde que el alumno cruza la puerta de la academia.

Centro preparador de exámenes de Cambridge y centro examinador de Trinity.

Amplia biblioteca en inglés, siempre a disposición de nuestros estudiantes.
PRECIO: A consultar en el centro.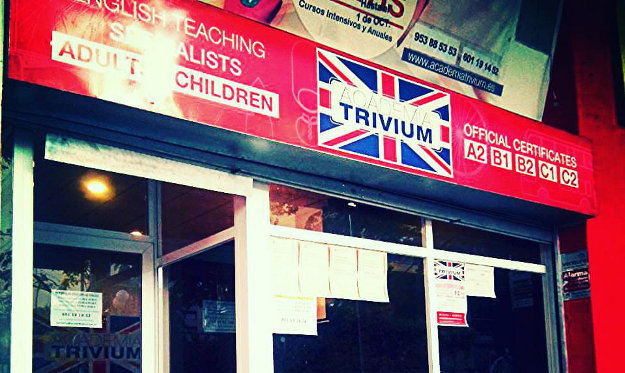 Trivium cuenta con 2 centros en Jaén y uno más en La Guardia de Jaén. La filosofía de esta academia se basa en la creencia de que todos somos capaces de aprender un nuevo idioma sin importar la edad que tengamos; y que para ello es importante que alguien nos guíe en el camino y nos haga ganar la confianza necesaria para comenzar a hablarlo de una vez por todas. Por eso les gusta acompañar a sus alumnos y trabajar en equipo para conseguir los objetivos marcados. En sus centros encontrarás el curso que se adapta a tu nivel y necesidades, en clases grupales o cursos intensivo en los meses de verano, bien para aprender el idioma o para obtener la certificación de Cambridge a la que quieras presentarte, desde A1 a C2, ya que son centro preparador.Además de las certificación oficial de Cambridge, también puedes presentarte con Trivium a los exámenes de Aptis, Trinity y de la Alianza Francesa si lo tuyo es el francés. También ofrecen clases dinámicas para niños de a partir de 6 años donde aprender el idioma mediante canciones, juegos y actividades divertidas de la mano de profesores nativos por 60€/mes por 3h de clases semanales.
Lo mejor:
Gran oferta en cursos intensivos en verano

Centro preparador de exámenes de Cambridge y centro examinador de Aptis.

Aprendizaje del idioma con similitudes al espíritu deportivo y trabajo en equipo; acuerdos con precios reducidos para entidades deportivas en la ciudad.
PRECIO: Desde 60€/mes



Pero hay más. Además de las academias de inglés físicas en Cáceres, te animamos a probar la modalidad de clases de inglés online por videoconferencia. Si crees que las conoces porque ya has hecho clases por Skype y Zoom, quédate leyendo, aún no has probado nada. Las que te ofrecemos tienen tecnología de big data incorporada para detectar tus lagunas de conocimiento e ir directamente a llenarlas del contenido que necesitas.
Prueba gratis estas CLASES DE INGLÉS ONLINE que te cambiarán el concepto de clases de inglés para siempre.
TAL VEZ TE INTERESE TAMBIÉN:
LAS MEJORES ACADEMIAS DE INGLÉS EN ZAMORA
LAS MEJORES ACADEMIAS DE INGLÉS EN CIUDAD REAL
LAS MEJORES ACADEMIAS DE INGLÉS EN TOLEDO
LAS MEJORES ACADEMIAS DE INGLÉS EN CUENCA
LAS MEJORES ACADEMIAS DE INGLÉS EN GUADALAJARA
LAS MEJORES ACADEMIAS DE INGLÉS EN
GETAFE
LAS MEJORES ACADEMIAS DE INGLÉS EN LEGANÉS
LAS MEJORES ACADEMIAS DE INGLÉS EN TRES CANTOS
LAS MEJORES ACADEMIAS DE INGLÉS EN POZUELO DE ALARCÓN
LAS MEJORES ACADEMIAS DE INGLÉS EN MOSTOLES
LAS MEJORES ACADEMIAS DE INGLÉS EN MADRID
LAS MEJORES ACADEMIAS DE INGLÉS EN GIRONA
LAS MEJORES ACADEMIAS DE INGLÉS EN BADALONA
LAS MEJORES ACADEMIAS DE INGLÉS EN LA CORUÑA
LAS MEJORES ACADEMIAS DE INGLÉS EN LAS PALMAS DE GRAN CANARIA
LAS MEJORES ACADEMIAS DE INGLÉS EN CÓRDOBA
LAS MEJORES ACADEMIAS DE INGLÉS EN MURCIA
LAS MEJORES ACADEMIAS DE INGLÉS EN VALLADOLID
LAS MEJORES ACADEMIAS DE INGLÉS EN SALAMANCA
LAS MEJORES ACADEMIAS DE INGLÉS EN VALENCIA
LAS MEJORES ACADEMIAS DE INGLÉS EN BILBAO
LAS MEJORES ACADEMIAS DE INGLÉS EN LEÓN
LAS MEJORES ACADEMIAS DE INGLÉS EN GIJÓN
LAS MEJORES ACADEMIAS DE INGLÉS EN ZARAGOZA
LAS MEJORES ACADEMIAS DE INGLÉS EN MÁLAGA
LAS MEJORES ACADEMIAS DE INGLÉS EN VIGO
LAS MEJORES ACADEMIAS DE INGLÉS EN SEVILLA
LAS MEJORES ACADEMIAS DE INGLÉS EN BENIDORM
LAS MEJORES ACADEMIAS DE INGLÉS EN PALMA DE MALLORCA
LAS MEJORES ACADEMIAS DE INGLÉS EN GRANADA