Quiero apuntarme a una academia de inglés en Cáceres. ¿Cómo acertar en mi elección?
Si vives, trabajas o estás una temporada en Cáceres y quieres apuntarte a una escuela de idiomas, sigue leyendo. Cáceres, ciudad Patrimonio de la Humanidad por la UESCO desde 1986 ha ido cobrando importancia a nivel turístico en las últimas décadas. Además, la revista TIME, presente en todos los aeropuertos internacionales, incluyó en 2021 a Cáceres en la lista de las 100 mejores ciudades del mundo para visitar. Todo ello, sumado a su cercanía con Portugal, donde nuestros vecinos tienen un altísimo nivel del idioma inglés, ha favorecido y profesionalizado la oferta de clases de idiomas en general y de inglés en particular que la ciudad te puede ofrecer. De entre todas las opciones sobre dónde aprender inglés en la bella Cáceres, nos hemos quedado con las cinco mejores academias de idiomas que cuentan con buena reputación y valoración, una trayectoria sólida y que creemos ofrecen la mejor relación calidad/precio teniendo en cuenta también las opciones que brindan para todos las edades y niveles y su equivalente en exámenes para certificados oficiales.
The pleasure is ours, but the choice is yours!
También te indicamos el
PRECIO
de cada escuela y te recomendamos que te fijes en la relación
CALIDAD / PRECIO
que ofrecen.
Top 5 mejores academias de inglés en Burgos, según opiniones de los usuarios.
En primer lugar te presentamos Oxinity, una EdTech que ha venido para innovar en la enseñanza de idiomas. Se posiciona muy bien en la modalidad de clases online por videoconferencia, intensivos de aceleración, clases de inglés y español para extranjeros. Oxinity utiliza tecnología de big data que acelera el aprendizaje, identifica tu progreso y tus carencia y adapta los contenidos para poder practicar en clase lo que no conoces y necesitas activar con los profesores. Uno de los puntos de valor de Oxinity son los grupos muy reducidos, de sólo 3 alumnos; también los precios ya que pagas mes a mes desde 30€/mes o lo que es lo mismo, 7€/clase; y la plataforma del alumno con todo el material para tus clases para que no tengas que tomar apuntes y aproveches toda la clase para practicar con tu profesor. Además tienes horarios muy flexibles y puedes reservar y cancelar clases con 1 minutos de antelación.
Lo mejor:
Grupos de sólo 3 alumnos. Gran abanico de horarios flexibles.

Puedes reservar y cancelar con 1 minuto de antelación.

Puedes probar el sistema con una CLASE GRATIS y tienes un 10% de descuento por referidos.

PRECIO: desde 30€/mes
El estudiante no paga matrícula y el coste mensual es de 7€/clase.

Todos los cursos de inglés para empresas de Oxinity son 100% bonificables por la FUNDAE.
Mortimer English es un método internacionalmente conocido dedicados a la enseñanza del inglés como lengua extranjera poniendo el foco en la comunicación, en los cursos previamente estructurados y sin dejar lugar a la improvisación, y están presentes en Cáceres desde 2012. Cuentan con un sólido proyecto docente con objetivos claros y programas especialmente diseñados para el aprendizaje del inglés y adaptados a cada edad y necesidad. Los materiales son propios para la aplicación de su método: libros de actividades, audio CD's y cientos de juegos, además de material gráfico. Organizan campamentos urbanos de inmersión en inglés en los meses de julio para los alumnos más pequeños mientras que para los adultos ofrecen cursos intensivos de inglés para niveles B1 o B2, en este último nivel de 32hs y por 185€ con la matrícula y simulacro de examen oficial incluido. Durante el resto del año en Mortimer puedes prepararte para los exámenes oficiales de Cambridge y Trinity College, ya sea en clases grupales, particulares one-to-one y en modalidad presencial o por videoconferencia siguiendo la clase en directo.
Lo mejor:
Metodología propia y unificada en los más de 300 centros que tiene Mortimer en el mundo.

Centro preparador para exámenes de Cambridge y examinador para exámenes de Trinity.

Plataforma propia de e-learning.
PRECIO: Orientado a exámenes: 32hs y por 185€.

Marta y Victoria son las dos profesoras que están al frente de We Love English un proyecto muy personal y joven de apenas 4 años de trayectoria pero que ya se está haciendo un hueco como una de las academias mejora valoradas en Cáceres. Además de "diver-aprender" Inglés a través del diálogo y la conversación, es un centro oficial preparador de exámenes oficiales de Cambridge hasta el nivel Advance C1. Ofrecen cursos intensivos para prepararte un nivel y conseguir el correspondiente certificado oficial de Inglés desde 100€/mes. Además para niños de infantil y primaria ofrecen cursos semana les durante todo el año en clases grupales de máximo 6 alumnos, 3 horas a la semana repartidas en 2 días por 90€/mes; o de 120 minutos 1 vez por semana, según la edad.
Lo mejor:
Trato cercano y gran disponibilidad del equipo, y una metodología basada en la comunicación.

Sin libros, las profesoras preparan el material adecuándolo a las necesidades de cada alumno.

Centro preparador de exámenes oficiales de Cambridge.
PRECIO: intensivos para exámenes oficiales desde 100€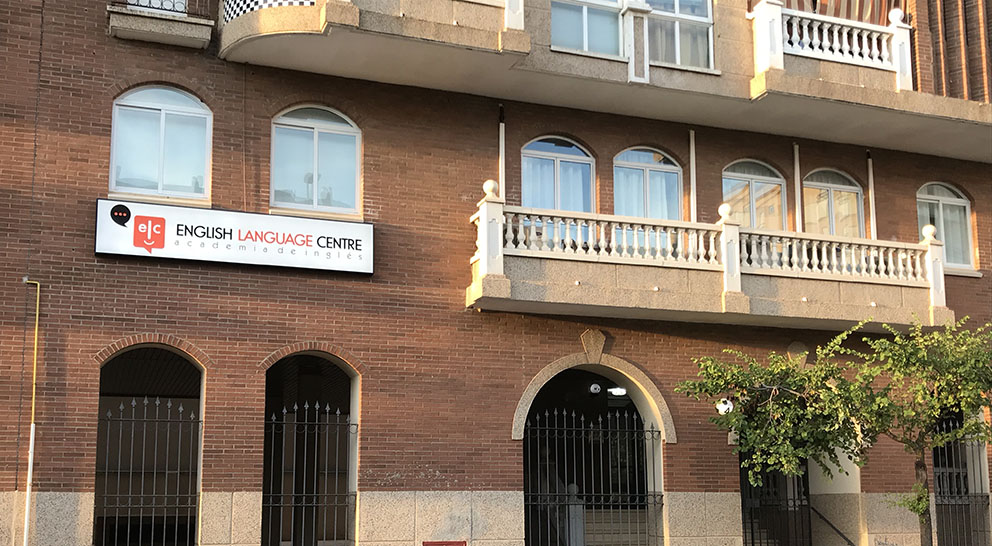 English Language Center es una academia de larga trayectoria y reconocimiento en la ciudad de Cáceres, no en vano está activa desde el otoño de 1990. Todos estos años que llevan ofreciendo cursos de inglés y de preparación de oposiciones son una garantía de calidad y muestran su compromiso y seriedad con todas aquellas personas que desean aprender inglés en esta academia. Ofrecen clases de inglés para niños desde los 3 años, adolescentes y jóvenes- desde alumnos de primaria y secundaria, hasta alumnos de bachillerato y estudiantes universitarios- en grupos de 9 alumnos, desde 60€ al mes por 2 clases semanales; también ofrecen cursos de conversación para adultos. Además, son Centro Oficial de preparación para los exámenes de nivel B1, B2 y C1 de Cambridge, de la Escuela Oficial de Idiomas, así como los de Trinity.
Lo mejor:
Su reconocida trayectoria.

Solo una matrícula por familia y paquetes de descuentos muy atractivos por hermanos, amigos, etc.

Centro preparador de exámenes oficiales de Cambridge, EOI y Trinity
PRECIO: Grupos de 9 alumnos, desde 60€/mes
Brumiel es un conocido centro de estudios y apoyo pedagógico en Cáceres, que cuenta con un espacio de aprendizaje del inglés renovado y profesional. Brumiel es el único centro en Cáceres especializado en Linguaskill de Cambridge, método de certificación que permite acreditar un nivel oficial de Cambridge English en tan solo 48h desde A1 hasta C1 o superior. Ofrecen tanto cursos online como clases presenciales donde poder mejorar y actualizar tu nivel antes de presentarte al examen Lingiaskill. De entre las opciones para preparar tu curso desde casa, usando su plataforma online tienes la opción básica durante 20 días y 80 horas por 228€ hasta la opción intensiva de 3 meses por 475€, siempre con tasas incluidas. Si prefieres además de tener acceso a la plataforma online, acudir de vez en cuando a la academia y aprender a tu ritmo tienes la solución en los cursos "stepbystep" por 75€/mes + 77 de matrícula, materiales y acceso a la plataforma.
También organizan clases de inglés en entornos laborales, de corte académico o de conversación conversación.
Lo mejor:
Facilidades para aprender a tu ritmo.

Plataforma con materiales propios.

Único centro Linguaskill para certificar titulación de Cambridge en Cáceres.
PRECIO: Varias opciones, a destacar 80 horas por 228€.



Pero hay más. Además de las academias de inglés físicas en Cáceres, te animamos a probar la modalidad de clases de inglés online por videoconferencia. Si crees que las conoces porque ya has hecho clases por Skype y Zoom, quédate leyendo, aún no has probado nada. Las que te ofrecemos tienen tecnología de big data incorporada para detectar tus lagunas de conocimiento e ir directamente a llenarlas del contenido que necesitas.
Prueba gratis estas CLASES DE INGLÉS ONLINE que te cambiarán el concepto de clases de inglés para siempre.
TAL VEZ TE INTERESE TAMBIÉN:
LAS MEJORES ACADEMIAS DE INGLÉS EN ZAMORA
LAS MEJORES ACADEMIAS DE INGLÉS EN CIUDAD REAL
LAS MEJORES ACADEMIAS DE INGLÉS EN TOLEDO
LAS MEJORES ACADEMIAS DE INGLÉS EN CUENCA
LAS MEJORES ACADEMIAS DE INGLÉS EN GUADALAJARA
LAS MEJORES ACADEMIAS DE INGLÉS EN
GETAFE
LAS MEJORES ACADEMIAS DE INGLÉS EN LEGANÉS
LAS MEJORES ACADEMIAS DE INGLÉS EN TRES CANTOS
LAS MEJORES ACADEMIAS DE INGLÉS EN POZUELO DE ALARCÓN
LAS MEJORES ACADEMIAS DE INGLÉS EN MOSTOLES
LAS MEJORES ACADEMIAS DE INGLÉS EN MADRID
LAS MEJORES ACADEMIAS DE INGLÉS EN GIRONA
LAS MEJORES ACADEMIAS DE INGLÉS EN BADALONA
LAS MEJORES ACADEMIAS DE INGLÉS EN LA CORUÑA
LAS MEJORES ACADEMIAS DE INGLÉS EN LAS PALMAS DE GRAN CANARIA
LAS MEJORES ACADEMIAS DE INGLÉS EN CÓRDOBA
LAS MEJORES ACADEMIAS DE INGLÉS EN MURCIA
LAS MEJORES ACADEMIAS DE INGLÉS EN VALLADOLID
LAS MEJORES ACADEMIAS DE INGLÉS EN SALAMANCA
LAS MEJORES ACADEMIAS DE INGLÉS EN VALENCIA
LAS MEJORES ACADEMIAS DE INGLÉS EN BILBAO
LAS MEJORES ACADEMIAS DE INGLÉS EN LEÓN
LAS MEJORES ACADEMIAS DE INGLÉS EN GIJÓN
LAS MEJORES ACADEMIAS DE INGLÉS EN ZARAGOZA
LAS MEJORES ACADEMIAS DE INGLÉS EN MÁLAGA
LAS MEJORES ACADEMIAS DE INGLÉS EN VIGO
LAS MEJORES ACADEMIAS DE INGLÉS EN SEVILLA
LAS MEJORES ACADEMIAS DE INGLÉS EN BENIDORM
LAS MEJORES ACADEMIAS DE INGLÉS EN PALMA DE MALLORCA
LAS MEJORES ACADEMIAS DE INGLÉS EN GRANADA