Ya sabemos de sobra que el planeado "blitzkrieg" (o "guerra relámpago") del mandamás ruso, Vladimir Vladimirovich Putin, sobre Ucrania ya ha durado más de medio año. Una invasión no provocada por un país vecino quien habla de hermandad entre ellos pero más bien pensando en los hermanos Gallagher de Oasis. Un llamado "operación militar especial" (a los rusos el Kremlin les tiene prohibido llamarla "guerra") que ha dado a conocer a la bandera Ucraniana por todo el mundo mientras que la madre Rusia ya ha cosechado más sanciones que a Irán o al Corea del Norte.
Ya también sabemos quienes son los buenos y quiénes son los malos en este conflicto bélico, por lo menos desde los ojos de occidente… aunque siempre habrá personas argumentando en plan anti-OTAN o anti-capitalista, a pesar que los pensamientos de los poderosos rusos ya distan bastante del comunismo de antaño a pesar de haber guardado mucho de la represión y autoritarismo de aquellos tiempos soviéticos.
¿Pero qué pasa con el pueblo? En los años de la guerra fría, el ex-Policía Sting rumiaba con tono de ironía que si los rusos también quieren a sus hijos, además de opinar que en Europa y en los Estados Unidos que había un creciente sentimiento de histeria hacia las declaraciones soviéticas. Ahora más de 30 años después, el cantante volvió a cantar la canción que había casi dejado de cantar en los escenarios porque imaginaba que trataba de algo poco relevante a partir del desplome del telón de acero, el glasnost y la llegada de Rusia al mercado internacional.
Pero tristemente la historia tiene la costumbre de repetirse, y a pesar que los soviéticos ya no lo son y que nunca hubieron ataques de misiles de la URSS a los EEUU o a Europa, Rusia es ya más enemigo de occidente que nunca. Durísimas sanciones han caído sobre el pueblo ruso y como siempre el pueblo llano quien acaba pagando el precio por las acciones de un gobierno que termina en utilizar estas sanciones en su guerra eterna de propaganda para fomentar orgullo nacional y odio hacia todo lo de fuera.
Y por cierto, ¿qué opinan los rusos de a pie? ¿Es cierto que la mayoría tiene su cerebro lavado por la propaganda eterna vomitada por la televisión estatal? ¿O hay focos de resistencia entre los ciudadanos y hay posibilidad de revolución otra vez? ¿Como el "fake news" está del orden del día, habrá muchos rusos que ni siquiera están al tanto de lo que está realmente pasando al otro lado de la frontera? Pues a diferencia de lo que habrá pasado en otros conflictos militares, ya podemos enterarnos un poco. Y ni siquiera tenemos que hablar ruso. Porque hoy en día el inglés se habla en todas partes. Y en YouTube también.
Aunque el gobierno ruso ha bloqueado el acceso a YouTube y muchos webs internacionales más (CNN, la BBC, Instagram, Twitter, Facebook) los jovenes rusos - tan espabilados como cualquier jóvenes en cualquier país, utilizan los VPN - un programa o un app que "engaña" a las páginas web haciéndolas pensar que estás accediendo desde otro país - para ver sus páginas bloqueadas por el gobierno… y también para divulgar su mensaje al mundo exterior. Y para difundir su mensaje al público más amplio posible, hay que hacerlo en inglés.
Aún antes de la guerra en Ucrania había varios YouTubers rusos con sus canales en inglés. Algunos supieron que el rollo sovietico siempre ha tenido sus fans en el occidente y tuvieron sus canales llenos de historias de Stalin, Lenin, tiendas cutres, arquitectura brutalista, pins comunistas etc etc. Otros estaban enfocados en plan turístico, mostrando ciudades y pueblos rusos desde los ojos de sus propios habitantes. Y otros canales no fueron más que los de influencers, gamers o hasta "personalidades" quienes cotizaban un alcance lo más internacional posible.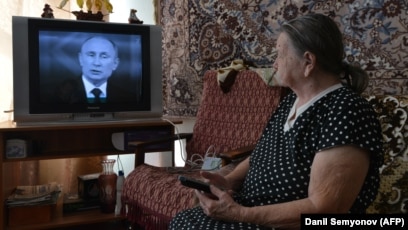 Hoy día algunos de estos YouTubers rusos han cambiado el tono y hasta el tema de sus canales. La mayoría hablan de la guerra pero por miedo a represalias siguen los órdenes del gobierno y lo llaman "special military operation". Porque sí no es una guerra, no puede haber crímenes de guerra, ¿a que no? Unos cuantos han salido del país y han huido a otros países como Georgia (la capital Tbilisi parece el refugio preferido de los YouTubers rusos quienes discrepan con su gobierno), Turquía o Azerbaijan. Otros han elegido quedarse en Rusia, aunque por el momento.
Y así os dejo unas cuantos enlaces para que puedes ver cómo varios rusos de varios edades y ciudades se acercan a la realidad de un país que ha llegado desde la aislación de la época de la guerra fría y el telón de acero pasando por la caída de la URSS y la apertura y el cambio inaugurado por el recién fallecido Gorbachov hasta encontrarse de nuevo casi como paria global bajo la presión de unos cuantos sanciones y la huida de la mayoría de las empresas internacionales. La mayoría hablan inglés con bastante fluidez y poco acento de su lengua materna, así que no es tan complicado entenderlos.
Hay que decir que no vas a oír tanto inglés en este canal como los demás pero sí que vas a leerlo, porque este canal va principalmente de entrevistas con la gente de la calle, en su mayoría rusos. Cómo doblar a los viandantes queda un poco cutre, las palabras de los entrevistados están subtituladas en inglés. También salen entevistas en calles fuera de Rusia pero preguntando acerca de temas rusas. El canal ha recibido bastante publicidad en la prensa occidental debido al hecho que el canal no promueve una agenda ni pro-Putin ni anti-Putin, pero pretende ser un reflejo fiel de lo que piensan los ciudadanos de a pie y nunca censuran la palabra guerra cuando lo menciona un entrevistado. Un dato interesante es cuando mencionan a la gente que NO consienten a entrevistarse. Otro dato: el nombre del canal viene del nombre del instituto del creador del canal, que se llama Danil.
1420: Why Is Putin's Opposition Dead Or In Jail?
Alena es una joven "barista" de 19 años, siempre vestida de negro y oriunda de Komsomolsk-on-Amur - una ciudad al extremo oriente de Rusia muchísimo más cerca de Tokyo que de Moscú. Cuenta su vida y porque todo le parece una mierda en su país con un toque de ironía. Domina bien el inglés, habla de una forma más harta que enfadada y resume su canal en estas diez palabras: "Coffee, life in Russia, stupid jokes, complaining and self deprecation."
DEPRESSED RUSSIAN: Cost of Living - Why Russians Never Smile
Valentina es una ama de casa de mediana edad que vive con su perro, su gato, su marido y varias tortugas en un pueblo en las afueras de Moscú. Cuenta su vida cotidiana y no suele entrar en temas de política en su canal. Habla un inglés fluido, lento y claro, aunque con una pronunciación marcadamente rusa. Su marido, quien solo puede hablar en su idioma materna, está reformando su dacha (casita rural).
DIFFERENT RUSSIA: Half a Year Under Sanctions - What Is Happening With Food Prices In Russia Today
Konstantin es padre de familia de mediana edad que recuerda claramente los tiempos de la guerra fría y el comunismo. Después de la caída de la URSS ha liderado varias empresas y también ha vivido varios años en el estado de Maine en EEUU. Sin embargo, decidió volver de sus felices años en USA a su Madre Rusia, y su experiencia de la vida soviética y norteamericana informa su opinión - a menudo pesimista - de su propio país y el futuro de aquel. Siempre inicia su "livestream" semanal con un alegre "howdy howdy" al estilo vaquero. Su apreciación del recién fallecido Mikhail Gorbachev mostrando por qué no fue tan bien visto dentro de Rusia como de fuera merece la pena ver. Tiene un inglés con una fluidez casi nativo pero con un ligero acento ruso. Ah, y también le gusta el té.
INSIDE RUSSIA: Gorbachev RIP - The Best Leader Russia Ever Had… And (Now) The Most Hated At Home
Antiguamente conocido como "YEAH RUSSIA", la joven Natasha cambió tanto el nombre como el enfoque de su canal - en aquel entonces mostrando su vida cotidiana y sus viajes por su Rusia oriental natal salpicado por su hartazgo con el sistema rusa - con la invasión de Ucrania por su ejercito nacional. Ha estudiado en los EEUU y entonces ve aún más claramente que todo no es de color de rosa, y también ha hecho hincapié del hecho que no ve la tele rusa desde hace años. A menudo Natasha colabora con su amiga Alena, la Depressed Russian, visto que las dos son de Rusia oriental. También ostenta su descontento con la Rusia de hoy día y a veces indaga en sus propios sentimientos personales. Habla un inglés correcto y bastante fácil de entender, y su sentido de humor (como cuando vió que de repente los paquetes de "dumplings" rusos llevaba una etiqueta alardeando que llevaban CARNE RUSA, y comentaba que lo hacía pensar en CARNE DE CAÑON) no se pierde en traducción.
YEAH RUSSIA: Why Young Russians Don't Like The Current Government [abril 2021]
NATASHA'S ADVENTURES: Propaganda Drives Me Crazy - How Environment in Russia Changed in the Last Months [2022]
Aunque nació en la séptima ciudad rusa, Cheliábinsk, cuyo fama limitada venía de albergar la mayor fábrica de tanques en la Unión Soviética y de haber sufrido la caída de una meteorita enorme en el año 2013, Roman NFKRZ (que se pronuncia "no fuckers") de veinte-pocos años es gamer, fan del rap del siglo XXI, entendido del mundo de la alta costura y un ex-fan de Trump (en sus años más mozos y menos informados) cuyo política actual ya le sitúa cerca de lo de Bernie Sanders. Empezó todo eso de YouTube en el instituto y tuvo un modesto éxito entre la comunidad gamer hasta que su carita fofita de joven llegó brevemente a ser carne de memes. Ahora luce una melena y un bigote a lo Pablo Escobar y mide por lo menos dos metros. Además de todo eso, posee un dominio C2 de la jerga norteamericana espigado de los videojuegos, los Youtubers de Estados Unidos y los videoclips de rap maridado con un acento con ligero deje británico que no desvela su nacionalidad rusa para nada. Desde poco después de la invasión de Ucrania, y tras un breve paréntesis, Roman se huyó a Tbilisi, la capital de Georgia, donde su canal mezcla historias de sus viajes en su nuevo país de residencia con su punto de vista sobre la propaganda rusa, el auge de rusofobia y quejas sobre las políticas de monetización de YouTube. A pesar de fumar a menudo parece que padece asma, así ha podido esquivar el servicio militar. Ah, y también le mola bastante la arquitectura soviética y los coches de la época comunista.
NFKRZ: Russia's McDonald's "Replacement"
NFKRZ: The Russia I Grew Up In Doesn't Exist Anymore
Niki Proshin es, quizás el más educado de todos los rusos aquí presente, o sencillamente habrá aprendido su inglés de un profesor muy cortés. Parece mucho más risueño y optimista que el ciudadano ruso típico, leva su pelo con una mecha grande de color (a menudo chillón) y aparenta algo mas joven que sus 29 años. Ha viajado y vivido en Asia pero ahora vive y estudia en San Petersburgo cerca de su pareja. Tiene una gran comunidad de seguidores de todos los países (y ha estado en medios norteamericanos y europeos) y habla inglés con muchísima fluidez, aunque empleando mucho menos argot callejero que NFKRZ. A menudo sus seguidores le preguntan porque no sale de Rusia, pero él contesta que no contempla el exilio hasta que su novia haya terminado la carrera. También tiene mucha curiosidad de conocer lo que piensan de verdad otros paisanos YouTuber, y ha grabado videos con cinco de los otros vlogueros mencionados aquí.
NIKI PROSHIN: Life in Russia - what news Russians see every day
Su alta fluidez en parte se debe al hecho que Zack ha vuelto de sus estudios en los EEUU en febrero de 2022, poco antes del inicio de la guerra. Nada más enterarse de la guerra Zack se unió a las protestas contra la guerra en Moscú y se salvó de una paliza de la policía por los pelos. Poco después hizo la maleta y salió del país, acabando en Georgia, precisamente en Tbilisi, el nuevo hogar de muchos rusos opuestos al gobierno de Putin. Con mucha diferencia a otros vlogueros como NFKRZ o Niki Proshin, Zack llama el pan pan y el vino vino y se niega decir "special military operation" en vez de WAR. Ha hecho muchos videos hablando de la guerra y hasta se ha implicado mucho en ayudar a la población ucraniana refugiada en Tbilisi. Sin embargo, el joven Zack (de 20 años) teme por su vida si tiene que volver a su tierra natal, pero supone que mientras que está fuera de Rusia tiene la libertad de expresarse como le siente con total sinceridad.
ZACK THE RUSSIAN: The War Criminals of Bucha (and how I could have been one of them)
Por supuesto, también hay canales anglohablantes llevados por vlogueros ucranianos de toda índole analizando el conflicto, algunos desde el frente del conflicto con un sentido de humor que sin duda está ayudando la moral de esta nación bajo un ataque sangriento sin precedentes en este siglo, o hasta entrevistando a prisioneros de guerra rusos y llamando a sus familiares para ver si su punto de vista acerca de la llamada "operación militar especial" haya cambiado ya que sus hijos han salido de quirófano ucraniano en silla de ruedas.
Y si os interesa, os puedo detallar como se llaman estos canales en una próxima entrega.